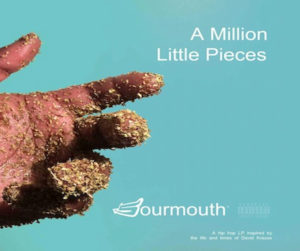 Oregon rapper Sourmouth finds inspiration in the pages of one of his most favorite books, then dubs his latest album after it. Presenting "A Million Little Pieces", a buffet of tracks that range from club hits, to conceptual pieces and back to what he's best known for, sarcastically edgy lyrical content. The Rose City native grabs guests features from fellow artists Karess, Sleep Dank and Dev The Baker and a host of online music producers, most notably Johnny Juliano.
Besides the book, Sourmouth also garners influence for the album from "Requiem For A Dream", "Halloween" and freemasonry to just name a few. Though we still can hear the Portland emcee's pottymouth antics, it also features song's that show Mr. Krauss' true growth both musically and mentally. Such a song is the emotional "I Hate It", that finds David speaking about his faults and relationship with his father. It's rough admitting to our faults, let alone sharing it thru music to the masses. Another song to check is "Bye Bye Davey", a song that centers around suicidal tendencies.
Fans of artists like Eminem, Tech N9ne and Hopsin will surely find a good portion of these songs pleasing to the ear. Listen to and purchase "A Million Little Pieces" below.